Conscientious Objector
It is a good society that respects diverse choices and attaches importance to choices related to conscience.


Source :&nbsp The Konkuk Bulletin, The Konkuk University Campus English Press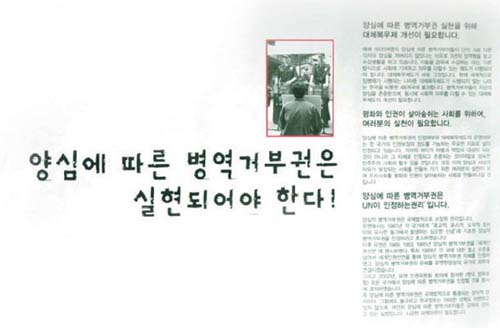 By Lee Wang-jae, Editor in chief
wangjae2@hotmail.com

Now, university students are worried about grades, employment, friends and military service etc.. Among them, military service is a continuos issue to students because many students have to go to the army. Also, university students have an anguish about how they can go to the army more easily and comfortably but have anger and deprivation that a high-ranking officer commits an act of irrationality in his military service. In this situation, many persons who have not yet completed their military service have announced that they can't go to the army because of religious reasons and conscience, so that it has become a subject of discussion in society and many students support the movement of conscientious objector. A conscientious objector is a conscript who reject military service, war and the use of armed force in accordance with his religious beliefs or conscience.
Why do they begin this movement? The reason is a respect for human rights for minorities. Speaking in plain terms, the government must approval of difference. When they can't shoot a gun in conscience, forcing them to do so is a solemn form of violence perpetrated by the nation. Of course, an army has many advantages in that people have regular habits and are given time to reflect upon themselves,. but the army is that group assigned to protect our nation. To protect our nation accompany a violence certainly whether it is rational or irrational. At this point, we should think of the fact that there are many people who can't get training with deadly weapons because they, conscientious objectors, are against war, all kinds of violence and love peace. If they don't reject military service, they can't adjust to the military so they cannot live in difficulty branded as maladjusted persons. If we have a duty to do something for our nation or society, there is no necessity for performing military service, but the government puts conscientious objectors in prison because they refuse to undergo military service. These people are over four hundred a year.
Is it impossible to give a choice to conscientious objectors to carry out their duty for the national defence instead of shooting guns for our nation? In fact, there are about two hundred thousand who perform alternative service instead of going to the army. This writer is sure that an 'alternative service system' is not a harmful influence on our nation but helpful to the nation because this system give conscientious objectors an opportunity to engage in another field. Some may say that if an alternative service system is introduced, who will go to the army or isn't it a method of avoiding military service but these questions are a hastily reached conclusion. Even if it were so, in 1987, the UN already declared through it's act that a veto of military service is a natural right, so it should be protected. And, Taiwan which is similar to Korea, introduced an alternative service system in 1999 and many countries followed suit. This writer thinks that it is a good society that respects diverse choices and attaches importance to choices related to conscience.

2002 / -1&nbsp/ 1-