518 Kwangju Uprising in South Korea

Present Significance of the 5.18 Gwangju Revolution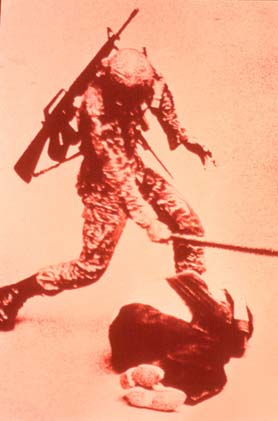 18th May is the 22nd anniversary of the Gwangju Peoples' Revolution. In 1980, hundreds of thousands of students and citizens took up arms and poured onto the streets in Gwangju, southwest of Korea, to rise up against the military dictatorship of Chun Doo-Hwan, who came into power through a military coup d'etat.


Remembering the Kwangju Uprising
George Katsiaficas is professor of humanities and social sciences at Wentworth Institute of Technology in Boston, Massachusetts. He is currently a visiting professor at Chonnam University in Kwangju, Korea.

[Related Article]

▷ Massacres and Morality
- Statement issued by the Asian Human Rights Commission for the International Youth Camp at Kwangju, Korea, 14 - 20 May, 1996, organised by Kwangju Citizens' Solidarity, for the commemoration of the KWANGJU MASSACRE which occurred on the 18th May, 1980.

▷ Debacle in Kwangju: Were Washington's cables read as a green light for the 1980 Korean massacre?
- Tim Shorrock, an investigative reporter who covers trade and labor issues for The Journal of Commerce, grew up in Japan and South Korea and has been writing about Korean affairs for many years. A longer version of this story that includes full quotations from the declassified documents on Kwangju can be found on the Internet at Korea Web Weeklyi

▷ Tribunal: U.S. crimes against Korean people
- On May 18, after five hours of eyewitness and expert testimony and the presentation of documented evidence, the Kwangju People's Tribunal found the U.S. government guilty of crimes against the people of Korea.