Planned working permition system for migrant workers for South Korean unions not enough
South Korea's unions lambasted the government's plan to implement the exclusive work permit system for migrant workers on a trial basis as a withdrawal from its reform drive.

Working Permition for Migrant Workers - A Step Forward in the Right Direction
South Korea's Ministry of Labor is moving to allow foreign industrial trainees to hold wage-earning positions, beginning as early as July, according to the daily JoongAng Ilbo, March 29. The new job category will replace the trainee program, which is more a kind of modern slavery as anything else.
---
2002 Migrant Workers Struggle In South Korea
(Two Faces of Korea)

[Updated] Kabir and Bidu released--but only temporarily
Kabir Uddin and Mohammed Bidduth, two Bangladeshi workers at the forefront of the migrant workers movement in South Korea, were temporarily released on December 1st by immigration officials at the Hwaseong Immigration Processing Center.

Migrant worker activists protest arrests, crackdown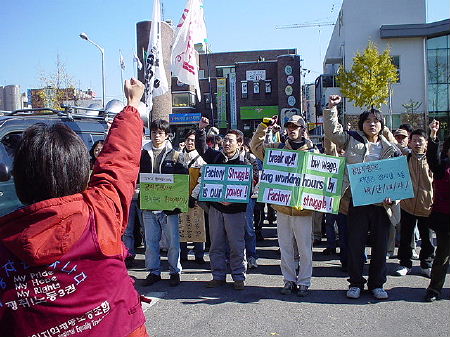 On September 2nd, immigration officials, accompanied by 30 policemen, raided two migrant houses in Masok and detained 13 migrant workers from Bangladesh, including Kabir and Mohammed.




Migrant workers struggle: hunger strike, protests and more arrests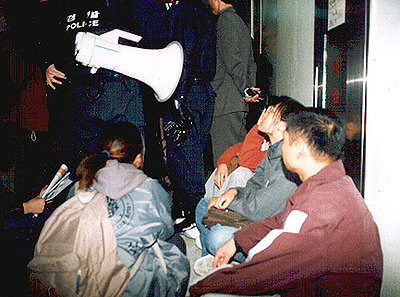 Last Thursday, Kabir Uddin and Muhammad Bidduth, Equality Trade Union-Migrants Branch leaders who have been detained in Hwasong Immigration Processing Center for two months since a government crackdown on migrant workers, initiated a hunger strike to protest human rights violations inside the detention center.

Release Kabir Uddin and Mohammad Bidduth! Stop the witch-hunting to union members and crackdown undocumented migrants in Korea!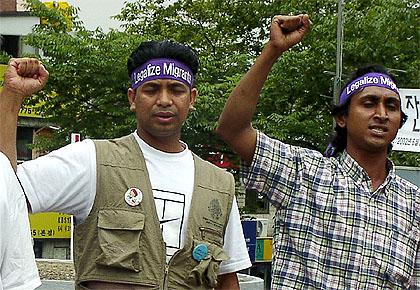 On September 2 at Six o'clock in the morning, nine Immigration Bureau officials and about 30 police personnel came in Songseng Industrial Zone in Masok district. They stormed in the two Bangladesh migrants' house and arrested all 13 Bangladeshi migrants residents.

Protestor's Show Solidarity with Foreign Workers in Korea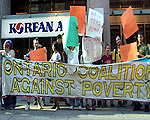 The Ontario Coalition Against Poverty (OCAP) held a solidarity picket outside the Korean Airlines office in downtown Toronto yesterday to protest the current crackdown on migrant workers in South Korea.

Migrant workers protest government crackdown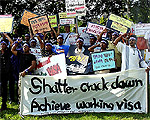 ETU will demonstrate every day in front of the immigration office unil Kabir and Mohammed are released.

[Related Article]
▷ Letter petition to South Korean government to release Md. Bidduth and Kabir Uddin
▷ Immigration focuses migrant crackdown on JCMK/ETU-MB

---

June 26th, ACTION ALERT: Urgent Support Needed, MIGRANT WORKERS IN SOUTH KOREA FACING MASSIVE CRACKDOWN, ARREST, DEPORTATION AND SUPPRESSION

May we also strongly request you to participate in the Internationally Coordinated protest action to be held in front of Korean Embassies/Consulates in your country. We are suggesting you to join us on the simultaneous rally on the 26th of June.

[Recent Article]
- [Solidarity Message] Workers of all countries united!
- Warten aufs Finale (German)
- International Declaration for Migrant Workers' Demands for Achieving Working Visa and Opposing Crackdown to Undocumented Migrants in South Korea
- LETTER PETITION TO SOUTH KOREAN GOVERNMENT
- The Struggle Continues Against the Continuing Repression
- Crackdown is going on. Stop crackdown! Achieve working visa! - 1
- Crackdown is going on. Stop crackdown! Achieve working visa! - 2



Cordial and Sinister Faces of the World Cup 2002 in Korea

With this, the Korean Government creates two faces during the World Cup. One is the joyously cordiality for foreign tourist and the other is the sinister attacks to migrants workers
- THE TWO FACES OF KOREA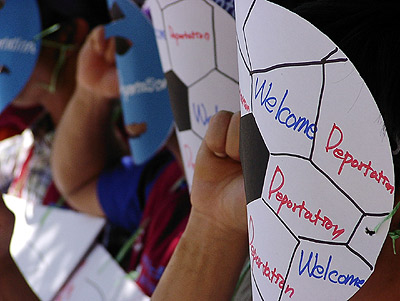 Korea is showing the world a welcoming foreigner-friendly face to the thousands of visitors attending the 2002 Korea/Japan World Cup games. But the face that the Korean government isn't showing is its unfair treatment of an estimated 300,000 migrant workers living and working here.
- About 60 organization formed an alliance committee for Migrant workers

Last Thursay (May 9th) a broad coalition was formed.It was dubbed as " Struggle Alliance Opposing the Oppression to Migrant Workers and for Achieving Working Visa
- Reject Registration!! Stop Crack Down!! Achieve Working Visa!!!

Migrant workers, one after another, unite in sit-in rally for the sake of freedom of assembly and association, annihilation of massive crackdown, and achievement of working visa.
- Priests attack tent erected by migrant workers

The migrant workers have resorted to a sit-in in response to government suppression of a legal rally to have been held on April 21st calling for cancellation of the new registration system currently being implemented, which they feel is tantamount to deportation, and also for fair legal status, minus the trainee system which is now in place.