The Battle About the Bill of Dispatching South Korean Troops to Iraq - Or What the Parliamentarian Democracy is Teaching Us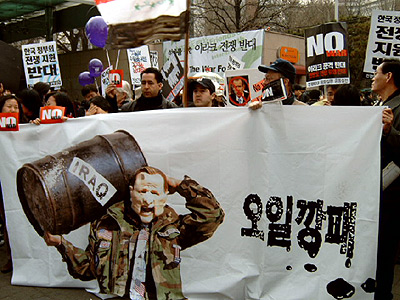 On April 2, after massive pressure from the government the majority of the National Assembly, the South Korean Parliament, voted with 179 voices for the bill. But 68 voices voted against the bill.

Massive Anti-War Protests Last Weekend All Around South Korea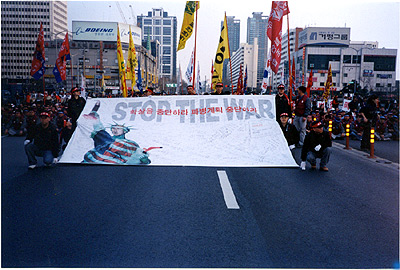 It has been two weeks since the war against Iraq began, and dozens of anti-war protests were held over the weekend in the country.

March 25: A Great Day of Victory for the S. Korean Anti-War Movement
The National assembly was expected to endorse a bill yesterday afternoon approving the dispatch of S. Korean (non-combat) troops to support the U.S.-led aggression against Iraq.

Professor says America's talk about Democracy for Iraq is a big lie
A Palestinian political expert has dismissed declarations by the Bush Administration that it was interested in fostering democracy in Iraq as "a big lie."

Victory for Korean Anti-War Protestors
As the US and UK coalition forces strove to the height of their illegal and indiscriminate imperialist war against Iraq, Korean activists protesting against the war earned a small victory against the Korean government. On 25th March, the National Assembly, which was supposed to vote on the motion to dispatch 600 military engineers and 100 medics to Iraq, decided to put off the vote until 2nd April.

Opposing the U.S. War of Invasion Against Iraq and the Korean Government?s Plan to Send Troops
Korean civil society and social movements were disappointed and angered by the betrayal of the President Roh Moo-hyun, who, on March 13, against all the hopes and expectation of the Korean people for a forthright leader, committed to support the U.S. war actions in his telephone conversation with U.S. president George W. Bush.

Democratic Labor Party of South Korea Urges Prosecutor of ICC to initiate investigation on the War Criminals - George W. Bush, Tony Blair and John Howard
The authors urge that George W. Bush, Tony Blair, John Howard committed war crimes, referred to Paragraph 1 (c), Article 5 of "Rome Statute of the International Criminal Court"(hereinafter "Rome Statute") and must be indicted.

Is North Korea Next?
John Feffer is the editor of the forthcoming Power Trip: Unilateralism and Global Strategy After September 11 (Seven Stories, 2003) and is currently finishing a book on U.S.-Korean relations. He is a regular contributor to Foreign Policy in Focus (online at www.fpif.org) and a member of FPIF's Advisory Committee.

Seoul: Mass Protests Against the War
Like in Europe, Egypt, the U.S., China, Vietnam and Australia in the South Korean capital Seoul thousands demonstrated last Saturday against the U.S. led aggression against Iraq.

Anti-war protest in Seoul draws thousands
March 21, nearly 15,000-20,000 marched to the American Embassy in central Seoul

NO to US Invasion of Iraq! NO to Neoliberal Globalization!
On 20th March 2003, the US army started to launch missiles on Iraq, while President Bush appeared to make his address on television. This invasion is an act that reaffirms the imperialist ambitions of the US, an act that is turning a deaf ear to the cries of the worldwide anti-war protests and the appeals of the Iraqi people.

We Condemn Bush's War
The anti-war peace movement in Korea will be one in this world-wide struggle against the war. Let us rise to stop this "barbaric war" that will drive women and children and innocent people to death, bring about environmental catastrophe, and the decimation of the cultural heritage of the Sumer and Mesopotamia civilizations which have ushered in the dawn of the history of humanity.

KCTU called on the workers to organize an international Labor delegation to Irap
The KCTU (Korean Confederation of Trade Unions) previously called on the workers of the world to organize an International Labour Delegation to Iraq. The purpose of the appeal for action was to express the working class's strong opposition to the US-led war, and also to expose first-hand the atrocities that the economic sanctions and the war would bring to the region, in a stand of solidarity with the people of Iraq.

Worldwide again mass protests took place against the planned war
Perhaps days or hours before the attack last weekend several hundreds of thousands demonstrators protested against the planned U.S. aggression against iraq.

The U.S. should stop immediately the war against Iraq and the military threat imposed on Korea peninsula!!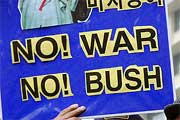 Participating in the international day of action for peace and against war on February 15

South Korean anti-war movement gathering strength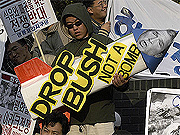 Approximately 400 protestors, mainly youth, gathered at Yeongdeungpo subway station. They loudly demanded an end to war preparations against Iraq and vehemently condemned Seoul's expected support of their allies in Washington.

[Recent Related Article]
▷ Anti-war actions in Japan on around Feb. 15, 2003
▷ Having to fight two wars at same time
▷ A solidarity message from No War Peace Action Korea
▷ To all citizens of Europe Together we can stop this war !
▷ South Korean Anti-war movement gathering strength
▷ South Korean Foreign Ministry: "Our position is in line with the U.S. position"
▷ Asian Peace Alliance statement against US plans to attack Iraq
▷ Americas War Against "Terror" might set the whole Middle East under fire
▷ Former CIA chief: Washington to change Arab regimes
▷ Italy: Thousands of Europeans protest war on Iraq
▷ U.S. rejects offer to negotiate
▷ A Declaration of War
▷ South Korea joins worldwide rally against U.S. war on Iraq
▷ Koreans want end to U.S. war threats
▷ [Photo] Korean-American drum troupe at anti-war rally
▷ Mass protest against the planned war against Iraq
▷ Bush's Speech: Declaration of War Against Iraq
▷Why the US plans to bomb Iraq and not North Korea
▷U.S.A.: It's not enough to support military dictatorships?
▷Anti-war protests begin in Asia-Pacific
▷Iran in the sight of Washington

---

[Photos] Praying for the real peace and two girl.
Pictures on Dec. 31, 2002 for anti-war movement and against US military in South Korea

People's movement against U.S. military in south Korea
On Saturday, December 7, after a large rally in downtown Seoul, thousands took to the streets and turned down one blockade of riot police units after another.

A Korean-American witnesses a growing mass movement in south Korea against the American military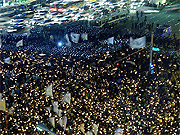 Around 5,000 mostly students, activists, and religious figures braved chilly temperatures to gather at Jongmyo Park to carry the momentum of the previous Saturday's huge mass rally and subsequent demonstrations in various parts of the southern peninsula by a growing diversity of groups in order to intensify and expand the struggle to vindicate the deaths of the girls, who were ran over by a U.S. military tank last June.

[Recent Related Materials]
▷ South Korean election reveals deep-seated hostility to Washington
▷ [Workers World] Hundreds of thousands protest U.S. occupation
▷ Solidarity candlelight vigils around the world for two Korean schoolgirls
▷ DC police breakup peaceful protest against unjust acquittals of U.S. soldiers who murdered two Korean girls
▷ Dramatic video clip of student protestors' invasion of U.S. army base
▷ Workers join demonstrations against U.S. military
▷ Korean masses express outrage against unfair U.S. verdict
▷ Acquittal of two U.S. soldiers leads to massive protests, Bush apology
▷ Statement on the death of two middle-school girls run over by an American armored vehicle
▷ Jury Clears GI of Killing Korean Girls


Struggle about oil instead of war against "terror"?
Since some times, America critical voices suspecting that the planned U.S. war against Iraq is only because of the rich oil resources of Iraq.

Dead Man Walking
Whitehouse Production Prevents
---

The Murder of Two Teenage girls by American Soldiers in Korea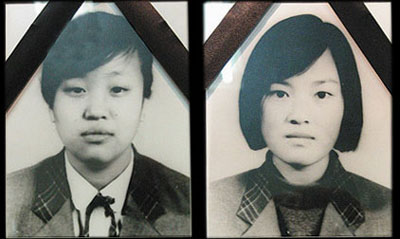 Two middle school students, Shim Mi-seon and Shin Hyo-sun going to their friends birthday party were crushed to death in Hyochonli, Yangju county, Gyeonggi province, by U.S. Army armored bridge carrier at about 10:30 A.M., on June 13, When the vehicle hit the girls, they were walking on side of the road.

Protests against the U.S. military continue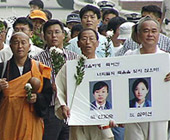 Shin Hyo-soon and Shim Mi-sun were walking to a friend's birthday party when they were struck and killed by a United States Army bridge carrier on June 13th, in Hyochon Village near Camp Red Cloud, 15 miles north of Seoul.

Anti-U.S. military activists take to the streets of Seoul

Organizers are planning a large mass rally to take place at Jongmyo Park next Saturday.

[Latuff Cartoon] No More Lives Lost!

Shin Hyo-soon and Shim Mi-sun were walking to a friend's birthday party when they were struck and killed by the military vehicle.

[Related Article]
▷ Protest slams killing of Korean youths
▷ U.S. soldiers arrested as protests increase
▷ Puerto Rican solidarity with Korean people
▷ Dear, Senators of the United States
▷ Two Korean girls killed by U.S. military vehicle
▷ "This is a US property - get off it" - says the US Military
▷ Growing movement in Korea exposes U.S. war crimes
▷ US-Korea investigations of schoolgirl death

Students occupy American Chamber of Commerce in Seoul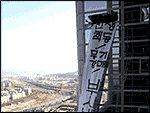 Around thirty student from Hanchongryon (Federation of Korean University Student Association) briefly gained control of a local symbol of U.S. economic hegemony to protest Bush's visit.
Riot police attack anti-Bush/U.S. mass rally
A tranquil downtown park was the site of an impassioned gathering of progressive forces against U.S. military and economic domination and for the peaceful and democratic reunification of the peninsula.
[03/03] 'Axis of Evil' speech draws fire from Koreans
[02/26] Bush Plays Dangerous Games in Korea
[02/25] Bush goes to Asia to sell war drive

Korean Students burn the American flag near the U.S. embassy in Seoul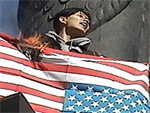 In a statement against Bush's visit, Hanchongryon argued, "He has continually threatened peace and stability on the Korean peninsula and forcibly insisted that South Korea should buy their arms. He is our real enemy."
Protestors demonstrate for peace on the peninsula as Bush prepares for South Korea visit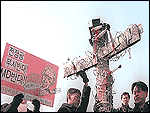 Religious, labor, and student activists march in the face of heavy police presence as the author of the "axis of evil" speech comes to town.
150 Women declare opposition to "U.S. president Bush's hardline rhetoric directed at North Korea"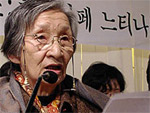 "We, as women, think that this situation is very urgent because we are trying to stop war which could kill many innocent people in the world. Even if it is terror or war against terrorism, all of them are the same evil. It should disappear from this earth."
Over 600 progressive groups hold press conference against President Bush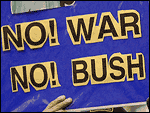 There is mounting international concern and intensifying fears about President George W. Bush's grouping together of Iran, Iraq, and North Korea as an 'axis of evil.' Bush's speech is an omen that turbulence is coming
A single person takes on the most powerful nation in the world as his government welcomes a single president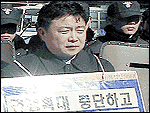 We have been demonstrating in front of the U.S. embassy for a long time now. It is nonsense that because of Bush's visit, we cannot have demonstrations.

[02/25] Bush goes to Asia to sell war drive
[02/22] Open Letter to President Bush (From Korean-American organizations)
[02/19] Bush's "evil axis" speech destabilises the Korean peninsula
[02/18] 700 Persons' Peace Declaration on the Occasion of the Visit of U.S. President Bush to Korea
[02/18] We are against Mr. Bush's visit to Korea, his plot to expand the war on terrorism to other countries, and finally the unequal U.S.- Korea investment treaty!
[02/15] Stop the War Games!
[02/07] Statement by Women Making Peace following U.S. President Bush's hard-line rhetoric directed at North Korea